New build residential homes & commercial spaces
There are some sites that allow the opportunity for new build. It may be a so-called infill site where there is a gap in an established building group. Or it could be a "brown-field" site in a built-up area where a redundant building, which is not suitable for re-purpose, can be demolished and a replacement building built in its place. When such an opportunity is available, you can create a project of your dreams.
Muir Walker Pride Chartered Architects will help you in realising your project, shaping its design, performance and value. Leading-edge design requires successful collaboration. Whether a custom residential home or commercial space, our team will guide you from concept to completion, to ensure innovative, distinctive, timeless spaces.
The advantages of new builds
We start discussions with you and work to form a sound working relationship that will contribute significantly to the success of your project. Time spent in preliminary discussion about your accommodation requirements, the timetable, budget and nature of professional resources required and their costs – is time well spent.
There are many advantages in building new. A new building will be designed to the exact brief, i.e. description of accommodation, preferences in interior plan layout and suitable design style. If it is a new house, you will make the most of the best views, or for example, make a utility room very spacious or have a family friendly open plan living space.    

Fully compliant with Scottish Building Regulations
Another advantage is that a project will be specified to comply with the current or higher requirements of Scottish Building Regulations and Practice if the building is in Scotland. It will therefore be more energy efficient that will result in reduced energy bills, as well as having long-term environmental benefits.
There are many design methods and technologies available now to make new build as environmentally friendly as possible. As a new build, you will also be more in control with the choice of finishing materials, type of flooring, lighting type and layout, bathrooms, kitchen, security, landscaping and many other components of a complete development.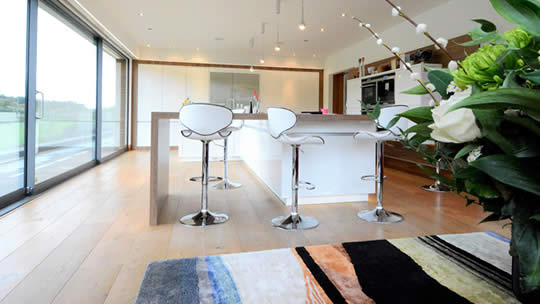 Covering all aspects of new build homes
There are also other issues we can help you with, that are relevant to a building project, including such diverse matters as strategic planning for a property development company and the design or selection of furniture and fittings.
Muir Walker Pride has the skills of RIAS and RIBA Chartered Architects for your project. This provides you with the assurance that we:
Have satisfied the stringent standards of educational qualifications and practice experience required for chartered membership of the RIAS and RIBA
Are committed to the shared professional and learned values of the RIAS and RIBA
We maintain our professional standards in practice through compliance with the RIBA's mandatory requirements for continuing professional development (CPD)
We have access to the extensive knowledge base of the RIBA.
Muir Walker Pride design and organise the new build project all the way from taking your initial brief and leading the project all the way to completion on site.