Why use timber frames for buildings?
Timber frame no longer has the stigma it once held with volume house builders of the 1970s and 1980s. From FSC (Forest Stewardship Council) managed sources, timber in building offers many advantages over traditional cavity masonry construction.
It is quicker to build, offers greater off-site prefabrication of components meaning higher quality workmanship, and a lower embodied energy and carbon dioxide overall compared with concrete and masonry products.
SIPs (Structural Insulated Panels)
Timber frame continues to evolve and the latest technology in SIPs (Structural Insulated Panels) offers even faster build times and a higher degree of thermal efficiency.
The structural insulated panels are typically made by sandwiching a core of rigid EPS foam insulation between two structural skins of oriented strand board (OSB).
Other skin material can be added for specific purposes, such as PVC & Magnesium Oxide boards. SIPs are manufactured under factory-controlled conditions and can be custom designed for each building project.
Benefits of Timber frames
Timber framed buildings are generally lighter and therefore require smaller foundations leading to further cost savings and with less concrete brought to site are environmentally friendly.
Disadvantages of timber frames
Designing for a timber frame requires a greater discipline in planning and layout. Changes are less readily achievable once on site, so this needs to be considered. Equally there are some instances when we would not advocate timber frame, such as when sound deadening next to a busy road may be a requirement (as a masonry wall has a greater acoustic performance).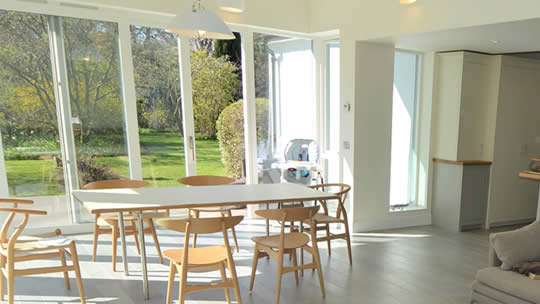 A renewable and sustainable building material
Unlike many other building materials, it is a renewable resource, Timber of course "grows on trees" and with careful replanting programmed there should not be a depletion of this resource. Further it is relatively easily recycled at low cost, which can assist in reducing future demands on forest resources.